Delicious Food Prepared and Ready to Serve for Any Occasion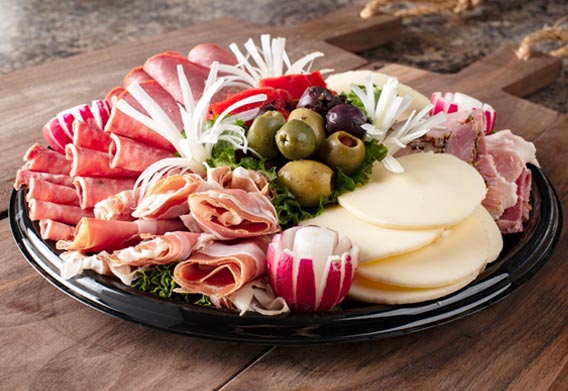 Premium Italian Deli Tray
This Premium Deli tray is for those with a discerning taste for quality. Only the finest hand selected meats and cheeses are thinly sliced and stacked high then beautifully garnished with radish and onion flowers.
– Prosciutto Di Parma
– Soppressata (Hot or Mild)
– Hot Capicola
– Italian Rosemary Ham
– Smoked Provolone
– Mozzarella
– Mixed Olive Salad
– Roasted Red Peppers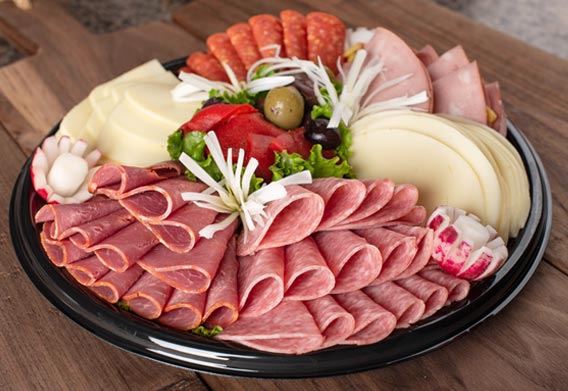 Traditional Italian Deli Tray
This Classic Italian Deli tray is sure to please your guests, piled high with thinly sliced delicious Italian meats, cheeses, olives and peppers – something for everyone.
– Genoa Salami
– Hot Capicola
– Mortadella (or ham)
– Sandwich Pepperoni
– Provolone
– Mozzarella
– Mixed Olive Salad
– Roasted Red Peppers
Deli Trays
(Minimum for all trays are 10 people)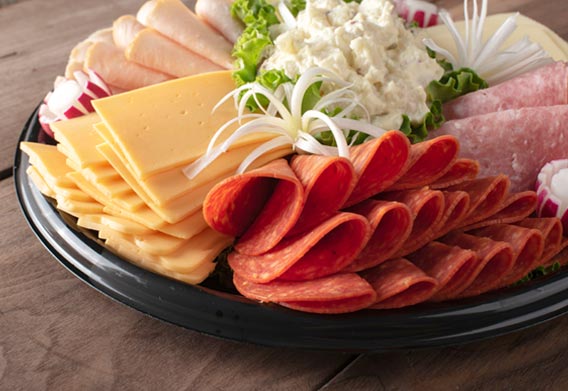 Classic American Deli Tray
Delicious Deli meats and cheese piled high with a choice of redskin potato salad or coleslaw included.
– Ham
– Turkey
– Sandwich Pepperoni
– Genoa Salami
– Swiss and American Cheeses
– Potato Salad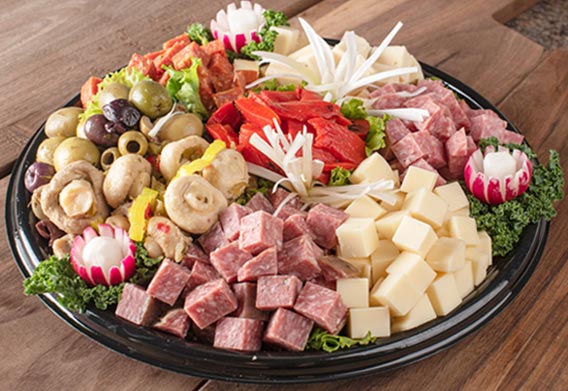 Antipasta Tray
You'll be the hit of the party with this beautiful assortment of Italian delicacies, all cut into bite size pieces for you and your guests to enjoy.
– Italian Dry Salami
– Sandwich Pepperoni
– Genoa Salami
– Smoked Provolone
– Fontinella Cheese
– Mixed Olive Salad
– Marinated Mushrooms
Cheese and Veggie
Antipasta Tray
Delicious assortment of cheeses and marinated vegetables and olives – perfect for any occasion.
– Provolone
– Feta
– Swiss
– Mozzarella
– Pitted Kalamata Olives
– Pitted Sicilian Olives
– Marinated Garden Vegetable Salad
– Marinated Mushroom salad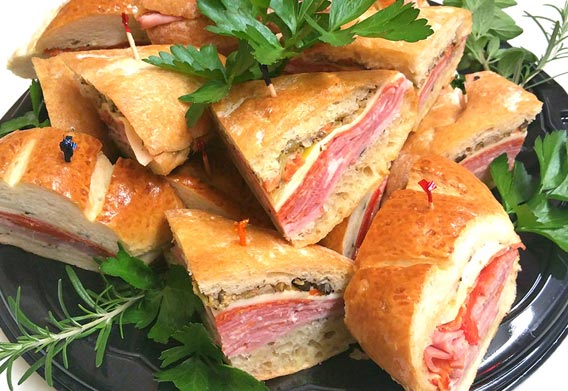 Italian Sub & Muffaletta
Sandwich Platter
Italian Sub
Genoa Salami, Capicola, Mortadella, Pepperoni, Provolone and Roasted Red Peppers on a delicious Italian sub bun.
Muffaletta
Olive Tapenade, Ham, Capicola, Genoa Salami, Pepperoni and Swiss on a Ciabatta Roll.
Cookie Tray
An assortment of delicious cookies locally made in Cleveland by Corbo's Italian Bakery and Becker's Bake Shop beautifully arranged and highlighted with colorful Jordan Almonds and Torrone Nougats.
You get 5-7 cookies per person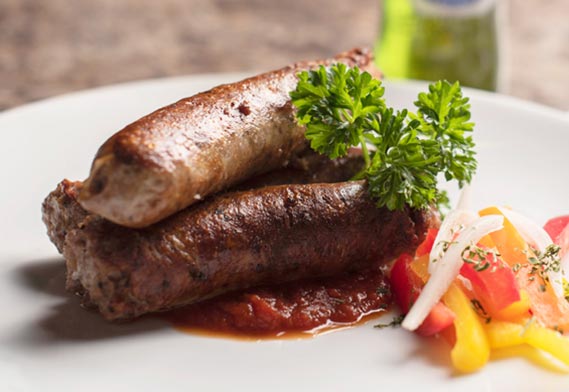 Sausage & Peppers
Freshly made mild or hot Italian sausage fully cooked and topped with fire roasted peppers and onions.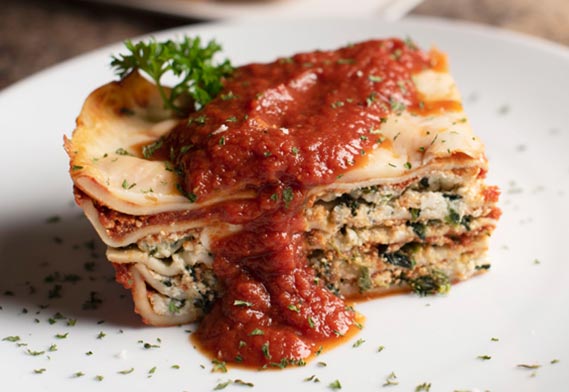 Homemade Lasagna
Choice of Cheese, Bolognese, or Vegetable. Fresh lasagna layered with ricotta, mozzarella.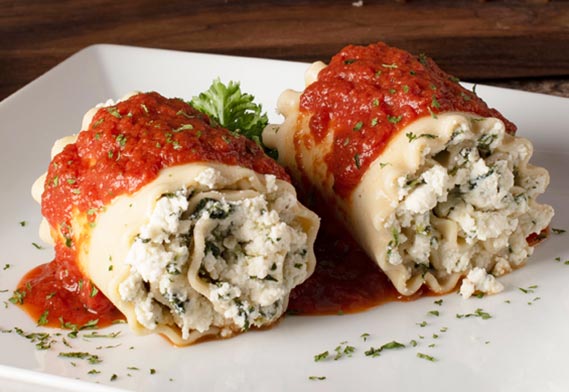 Lasagna Roll-ups
Fresh ricotta, spinach and Pecorino Romano stuffed into freshly cooked pasta smothered with our famous spaghetti sauce.
Chicken Parmesan
Lightly breaded chicken breast topped with sauce, melted mozzarella, and provolone.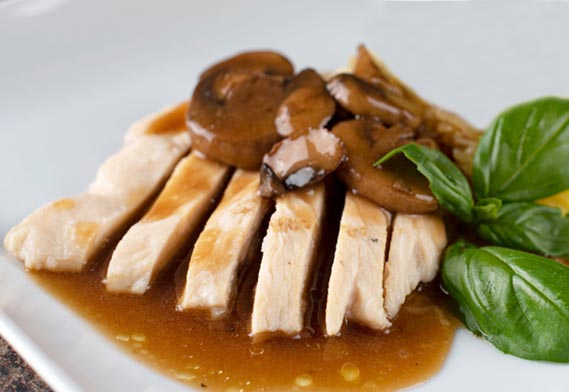 Chicken Marsala
Grilled chicken breast with homemade marsala mushroom sauce.
Chicken Picatta
Grilled chicken breast with lemon and caper Picatta sauce.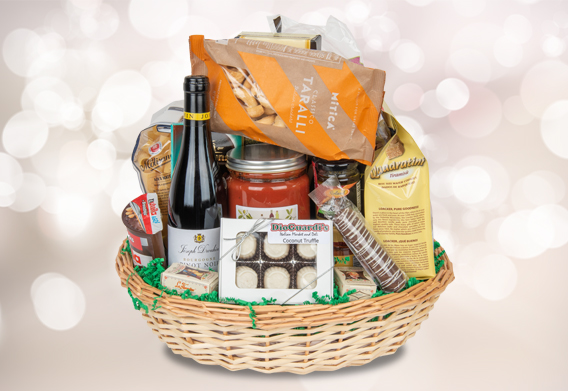 Large Gift Basket
– DioGuardi Spaghetti Sauce
– La Molisana Imported Pasta
– Pinot Noir Wine
– Mantova Bruschetta
– Alessi Soup
– Alessi Breadsticks
– Perugina Chocolate Bar
– Loacker Wafer Cookies
– Whiskey Sticks
– Carr's Crackers
– Italian Taralli
– Roland Pesto Sauce
– Misc. Italian Candy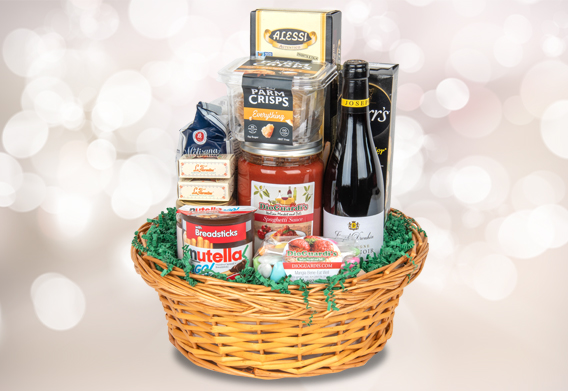 Medium Gift Basket
– DioGuardi's Spaghetti Sauce
– Carr's Crackers
– Pinot Noir Wine
– Mantova Bruschetta
– La Molisana Imported Pasta
– Alessi Soup
– Alessi Breadsticks
– Whiskey Sticks
– Perugina Chocolate Bar
– Misc. Italian Candy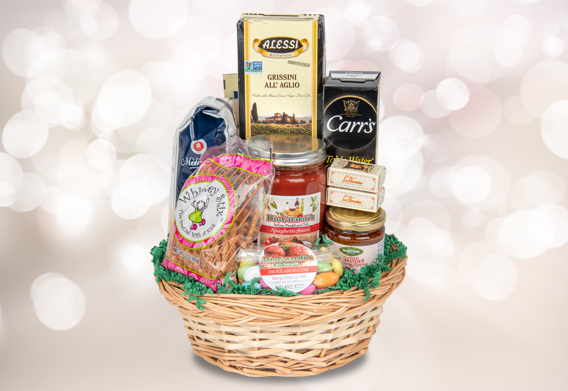 Small Gift Basket
– DioGuardi's Spaghetti Sauce
– Allessi Breadsticks
– Allessi Soup
– Mantova Bruschetta
– La Molisana Imported Pasta
– Jordan Almonds
– Whiskey Sticks
– Carr's Crackers
– Misc. Italian Candy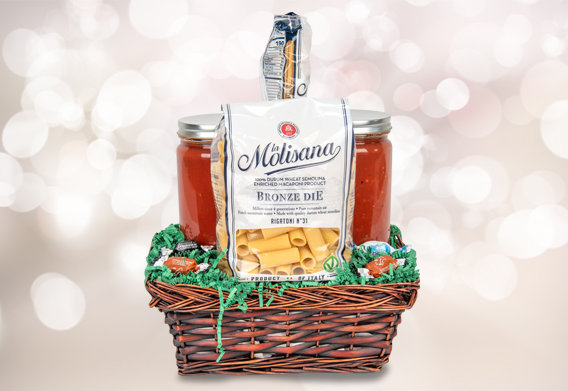 Sauce Gift Basket
– DioGuardi Spaghetti Sauce
– DioGuardi's Marinara Sauce
– 2 Bags La Molisana imported Pasta
– Misc. Italian Candy